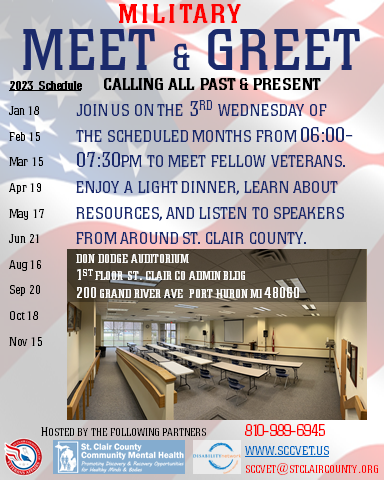 Monthly Meet & Greet
Calling all past and present military! You are invited to a Meet & Greet every third Wednesday of the month from 6:00pm to 7:30pm at Don Dodge Auditorium in the St. Clair County Administration building.
Jan 18 / Feb 15 / Mar 15 / Apr 19 / May 17 / Jun 21 / Aug 16 / Sep 20 / Oct 18 / Nov 15
Gather with other members of the military for an opportunity to connect with friends old and new.
Light dinner and refreshments will be provided. Meets and Greets are hosted by the St. Clair County Veterans Affairs, St. Clair County Community Mental Health Veterans Navigator, and Disability Network of the Thumb.
Call 810-989-6945 for more information.
2022 Sponsors of Veteran Golf Outing in support of the Relief/Hardship Fund